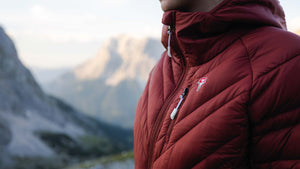 CLOTHING FROM GRÜEZI BAG IN HARMONY WITH NATURE
Clothing is a feeling and the best feeling is conveyed by nature. We at Grüezi bag try to use as much nature as possible in our products. Where this is not possible, we think of nature and use, for example, recycled material or degradable paints. The function of clothing is also important, and we can optimize this with motion-free cuts and clever features.
PERFECT WEARING CLIMATE THANKS TO WOOL
The wearing climate, in our opinion the most important thing about a product, is controlled entirely by nature. Wool acts like a natural air conditioning system and creates a unique, pleasant feel-good climate.
THE GRÜEZI BAG CLOTHING COLLECTION
Here is our collection, which will be expanded significantly over the next few years:
---